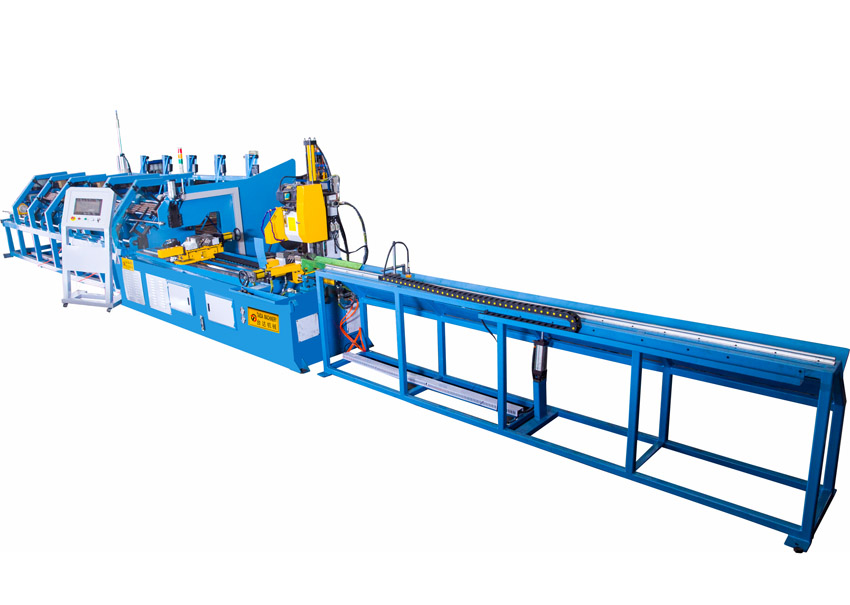 1. Fully automatic feeding and cutting machine adopts advanced CNC numerical control system control to realize the unmanned full data production process of cutting pipe production line and modular combination. The functional device modules are: automatic feeding machine, CNC servo pipe cutting machine, discharging machine, deburring machine, discharging rack, ultrasonic cleaning machine. The above modules can be selected by customers according to their needs.
2, the production process by the CNC system to adjust and monitor production, production of a variety of stable products accurate, can achieve automatic analysis and consulting classification production.
3, can be set at the same time saw a variety of sizes and quantities, the system automatically analyzes and self-classified production.
4. The cutting head is a multi-group gear shifting chassis, which is more stable and energy-saving. The oil circulation cooling system ensures the reliability and durability of the device and prolongs the service life of the device.
5, mechanical movement structure and components: all CNC self-supplied oil lubrication system, so that the mechanical structure movement can ensure long-term maintenance-free long life cycle.
6, unique fixture design, to ensure that the product does not scratch, no collision, and the process is smooth.
7, touch human-machine interface, easy to operate; and each module system can be operated independently, but also can be integrated, easy to maintain.
8. The sawdust is equipped with a filtering system in the anti-rust coolant, which is concentrated and convenient for cleaning and tidy.
9. It has an automatic detection alarm information system to facilitate users to troubleshoot.